I now know why California is on nearly every traveller's bucket list and with good reason too. There is so much to do and see and I still only saw parts of this huge state, seeing it all nearly takes a lifetime. But this is what makes it a perfect place to visit for those of us with wanderlust.
We started our trip in San Diego at the beautiful Paradise Point Resort & Spa – Mission Bay which is currently undergoing a refurbishment, due to be completed by March 2018. I would definitely recommend this Resort for anyone wanting a relaxing beach break but still only 20 minutes in car from all the action of the Gaslamp Quarter.
San Diego is a holiday paradise with near perfect temperatures year round and a laid back vibe that will leave you wanting more. I would recommend when visiting San Diego that you visit much more than just the downtown area as San Diego has a beautiful coast line, the good places to visit include La Jolla which is perfect for a beach day, amazing tacos and kayaking as well as a taste of Mexico in the old town and a classic Italian dish in little Italy.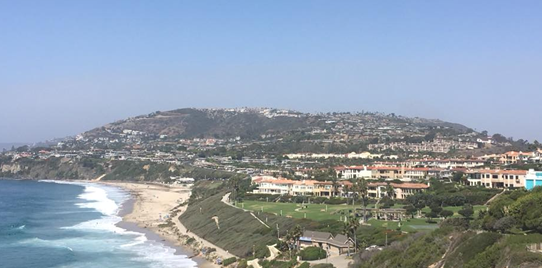 The best form of transportation in San Diego is Uber with great price fares. I would also recommend using the Trolley Tours which are hop on hop off at multiple destinations across the City.
When in San Diego it is a must to go visit the Zoo with a rare opportunity to see the Pandas, but make sure you visit across lunchtime as that is when the pandas come out for lunch.
The Gaslamp Quarter is a lively downtown neighbourhood, known for its nightlife, and a must do when visiting San Diego. If you want to be in the heart of the action I would personally recommend the following hotels:
· Andaz Hotel San Diego
· The Pendry Hotel San Diego
· Hyatt Manchester San Diego
San Diego is also home to other amazing attractions such as SeaWorld, Seal tours, Speed boat adventures in the big bay, Ghost & Gravestone tours and Balboa Park.
Our next stop on this trip was the laidback desert town of Borrego Springs. Smack in the middle of Anza-Borrego Desert State Park lies the unpretentious town of Borrego Springs, population 3,429. It's the only California town that is completely surrounded by a state park, and that's just one bullet in its list of bragging rights. Borrego Springs is an amazing place to visit for a few days en route to another town or city. The biggest reason to visit Borrego Springs is the startling sun rise in the Anza Borrego National Park. The sun rise is like nothing I have ever seen before, you are collected at 5am from your hotel and taken to the National Park by the lovely tour guides and the views speak for themselves (picture below).
Borrego Springs is an amazing place to visit if you are a keen golfer. The courses are award winning and used for many golfing events and professional golfers.
I visited various hotels in Borrego Springs but the top hotels I would personally recommend are:
· La Casa Del Zorro Resort
· The Palms Hotel
· Borrego Springs Resort & Golf Course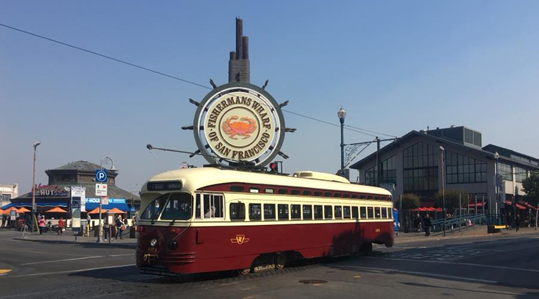 Orange County was our next beautiful destination with 42 miles of sandy coastline and a string of small, electric beach towns. Orange County delivers the best Southern California experience, and the Orange County is sandwiched between San Diego to the south of Los Angeles. We visited Newport Beach, Laguna Beach & Dana Point during our time in the Orange County and I can say it is an amazing alternative to the hustle and bustle Los Angeles with its pristine sandy beaches, lush hotels, nightlife and waterfront shopping. Whilst the Orange County is a relaxing break you can explore lots of attractions including Whale Watching, Fashion Island, Balboa Island and to top it off it's the best surfing destination in the USA. My personal recommendation for hotels would be:
· Pelican Hill Resort – Newport Beach
· Hyatt Regency Hotel – Newport Beach
· The Ritz Carlton – Dana Point
We then flew to Oakland which is on the east side of San Francisco Bay. Jack London Square is the top place to visit in Oakland with its beautiful waterfront location. You can visit Oakland from San Francisco by either ferry or taxi and it would make a lovely day visit from the hustle and bustle of San Francisco.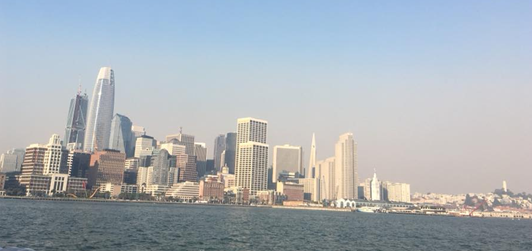 To top an amazing trip off on our last day we visited the beautiful city of San Francisco. It may measure less than 50 square miles but San Francisco justly ranks as one of the greatest cities in the world and rightly so. While in San Francisco it is a must to visit the main attractions including Alcatraz, The Golden Gate Bridge, Fisherman's Wharf and Union Square. A top tip when visiting San Francisco is to make sure you pre book any trip for Alcatraz prior to your holiday as tours can quickly fill up. San Francisco is also an amazing destination due to its famous cuisine, shopping, ballet, theatre and opera. An excellent way to see most of the city is to use the public transport such as the cable car system running up and down the steep hills of San Francisco.
I would personally like to stay in the tourist destination of Fishermans Wharf when staying in San Francisco, my recommended hotels include:
· Zephyr Hotel – Fishermans Wharf
· Argonaut Hotel – Fishermans Wharf
· Sheraton Hotel – Fishermans Wharf
I hope that this blog has made you see why you MUST make California a destination on your bucket list. If you have any other questions please contact me on 01482 581888 or email me charlotte@andrewearles.co.uk
Staff Member: Charlotte